Our journey began 1 year ago at a Barbecue at Andrew Eastman's house. We had thrown around some ideas before then but now fuelled by barbecued beef and beer we discussed and researched some viable options, consulting old guide books, maps, each other and the sagely wisdom of Mr Google. Finally, after much deliberation, we seemed to settle on the idea of cycling and canoeing somewhere in BeNeLux. Sam is an excellent kayaker and Ania has cycled to Poland before so we were in safe hands!
Over the next few months we met with Mark Eastman many times, often just before or after Network meetings, and began the task of sorting out all the logistics. We revised our rough schedule and itinerary. After much deliberation as to the cheapest way to get bikes we decided to fly to Amsterdam, rent bikes for 7 days, canoe for 3 and have a day of walking around the capital before flying back to Gatwick.
We chose the Netherlands as we had between us very little experience of this country (beyond a little of the capital) and would love to get to know its fields of flowers, particular cuisine, countless windmills, canal network and (most importantly for cycling) unbelievable flatness. The goal of every explorer belt is to get to know the locals and their culture but we also had an aim of creating a (musical) video of our journey. We would also have to complete 10 mini challenges. We decided it would be fun to be given them as a surprise on the day we leave and Mark was tasked with coming up with some and keeping them secret from us.
Once all 6 of us (Adam Jasko, Ania Jasko, Sam Lashwood, Matt Pitt, Tom Fox and Joe Fox) had booked our flights we knew the trip was for real and got set in earnest working our way with the guidance of Mark through the huge to-do list. The next few months involved lots of preparation both for the trip itself and to satisfy POR. Adam got to know and love the VA form and its angelic host of attached paperwork and at the end he met the ACC International in a wet marquee on WS to put a name to a face and get the final heads up.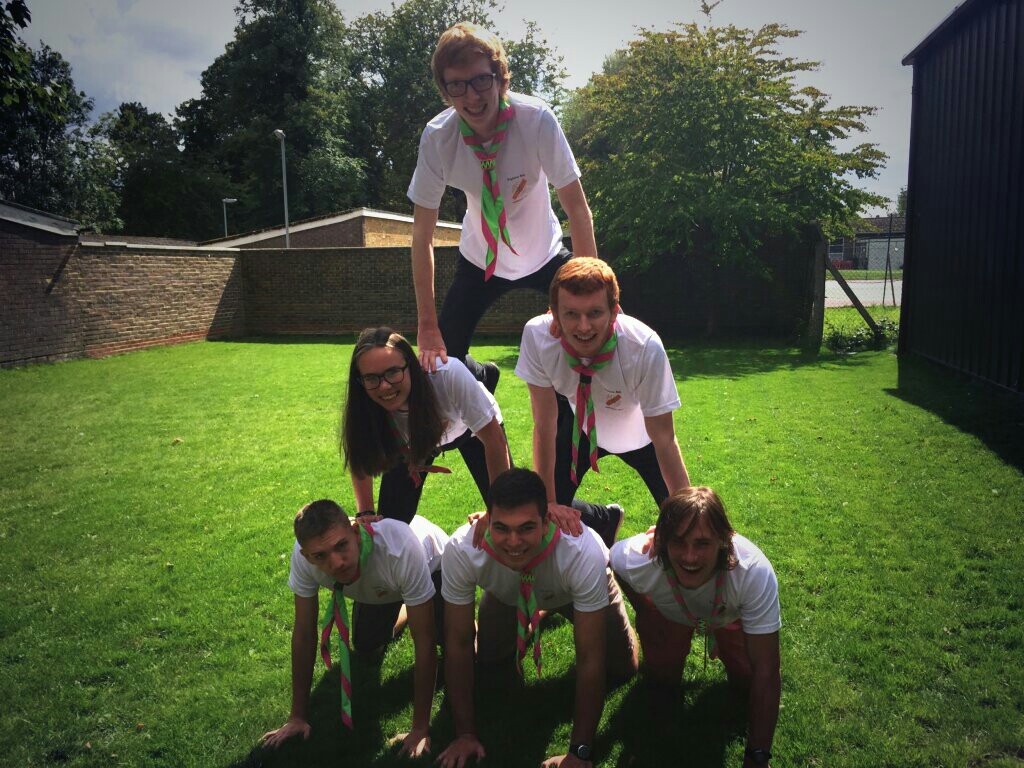 Then, after all the preparation the six of us met at The Acorn to get together our last bits of kit and headed off to Gatwick for our EasyJet flight. There we were greeted by Mark and got the joyous news our flight was delayed by 45 minutes. We did a lot of standing around, faffing, even had a quiet moment in the multi-faith room and finally checked and headed over to departures. Mark got a photo of us, said goodbye and then, just before security, gave us the ten long-anticipated challenges:
Learn the Dutch Scout Promise (in Dutch)
Find out the English translation of the Dutch Scout Promise
Apart from Edam and Gouda, try 4 different Dutch Cheeses
Visit a working windmill
Learn a Dutch Song
Learn to Cook a traditional Dutch meal
Explore a place of worship
Try "Bitterballen" and/or raw herring
Try liquorice ice cream
Swim in a lake or "path fountain" in Amsterdam and/or discover and climb art at Rijksmuseum
We were already delayed by the flight so it was very late when we got the bus into Amsterdam. Then we ran around the city for ages trying to find the right bus stop to take us to our campsite. It probably would have been a lot easier in the day time but eventually we found the stop and had time to taste a local blonde (beer!) before the bus came and took us the 20k towards the West coast and our campsite: Scoutcentrum Het Naaldenveld.
By the time we got there it was the early hours. We found the note the wardens had left for us and quietly made camp, 3 to a tent, on the pinecone covered forest floor before a long awaited sleep. Matt and Adam got up first and headed over to the wardens hut to get their bearings. We were greeted by the lovely Karin who even made us a cup of proper coffee – she said it looked like we needed it! She was very helpful and spoke great English. Once everyone was up we got our stuff together and Karin helped us further by translating the Dutch Scout (and cub) Promise into her best English – we will never forget that "A Welp plays together with his friends in the jungle!"
Then we headed off on the bus to Amsterdam, this time in sunlight! We got to the bike rental place which was just in the alleyway between two other shops. We got Dutch style bikes (the cheapest available) which meant only 1 gear, granny baskets at front, road tyres, no front brake and peddle back rear brakes – perfect for a 6 day tour. We check beforehand to make sure the rental was inclusive of helmets (for POR and to stand out like tourists), panniers (to carry all our gear and save our backs) and chains (to save a lot of hassle). One of the staff very helpfully showed us how to "securely" attach our panniers but we decided it might be wise to actually attach them. After playing around with the strange brakes for a bit we hit the road and experienced Amsterdam bike traffic – great fun. We had a lunch of cumin Gouda and wraps in the square and explored the city (including some food shopping, visiting a cheese shop where we sampled a dozen cheeses each and running around in one of the path fountains) before beginning the 30km journey back to campsite. Unfortunately, a few miles into the cycle Adam's transmission went. Whereas on an English bike it would have just been the chain slipped off the strange Dutch bikes had a mysterious mechanism in the front sprocket that half an hour of tinkering with our tools didn't fix. So we split up in to two groups. Half went to buy petrol for our MSR and cooking oil before heading back to camp/start cooking. Meanwhile the others walked back to Amsterdam, met a crazy old man who told great stories, got a replacement bike and cycled back. We got to sleep slightly earlier than last time.
The next day we began our tour of the Netherlands in earnest. We headed north all day towards Den Helder and experienced a wide variety of the countryside of Holland. We had a ferry ride, found out that the Netherlands is not completely flat (it has small sand dunes) and followed the FL1b cycle route a very long way! Matt found out his bike was great (he was actually given a "normal" bike by accident), Tom found out his bike was just more difficult to pedal on and everyone found their seats too hard after 80 kms! When we got close, Adam and Sam went ahead to find the scout hut (since we were running late) but found out that we had the wrong address in the GPS so overshot by a couple of kilometres and almost at the north coast. Luckily the others found the hut so those two went to buy dinner instead. The scout hut was great accommodation with hot showers, a large hall, kitchen, beds with mattresses and even a disco room. The leaders who let us in were also very nice and helpful and taught us the scout law in Dutch including the eternal phrase "een scout ist trouw" by attempting to repeat after them without making too much of a fool out of ourselves. After dinner we found a strange collection of CDs and had a disco to celebrate Sam's birthday.
The following morning we actually managed to make an early start! After breakfast, packing up and clearing up the hut we were greeted by the scout leaders from the night before who saw us out and taught us the Dutch scout promise, which we all repeated after. After a good start to the day we headed east toward the infamous Afsluitdijk – a 32km long embankment from north Holland to Friesland across the Zuiderzee. We stopped halfway along the dike on a mini island, admired a statue of the builder Lely; chatted with some serious, lycra clad, 200k-a-day cyclists; swam in the IJsselmeer and got a bit of the sun. We made sure use of slipstream and sang a few songs to keep us going. After the bridge, the wind launched literally hundreds of flies from a nearby sheep field into our mouths, ears, eyes and they stuck to our bodies. We couldn't honestly declare that "there aint no flies on us"…
We went through Zurich (a little village in Friesland, not the Swiss banking centre) lots of small towns and eventually arrived in Sneek (pronounced snake) and Sam got some much needed padded cycling shorts at Lidl buying food. Meanwhile Adam and Ania went ahead to the scout hut to greet those waiting for us and were met by a couple of young sea-scout leaders with coffee, comfy couches and cheerful chortles. Then, when they saw our enthusiasm for their boats one of them called Lennard offered us an evening cruise. We put our dinner on hold and got ready for a boat ride. Unfortunately Lennard dropped his glasses into the water whilst prepping the boat. The lads tried to swim in and find them using goggles, nets and torches but to no avail. The water was too murky but the glasses couldn't be found. We still enjoyed a beautiful cruise on the canals around the town and arrived back for dinner – pizza cooked in a plug in oven. Afterwards we were told we couldn't sleep inside and had to camp at the back but after an otherwise great evening we couldn't complain.
In the morning Lennard joined us, again made coffee and we raised the Crawley Network flag alongside the Sneek Sea Scouts one. Then he joined Ania and Thomas on one of the boats and we invested all three to Crawley Scout Network. We bid our farewells and headed to a windmill that Lennard recommended for despite having seen dozens none of them were working ones that we could visit. Die Rat was a working saw mill that cut timer for projects in the area and even abroad. It was sawing wood whilst we were there and the miller was in the middle of brunch when we came over but he was very inviting.
We then finally made good use of our toolkit. After pumping up Ania's rear tyre a few time it finally gave up the ghost and we got ready to replace the inner tube. What is a very quick process in the UK takes a lot more work with those darned Dutch bikes and the replacement inner tube with a bizarre valve that our British pumps wouldn't work on. We tried to wave down lots of other cyclists and eventually a kind young man lent us his Dutch pump and we were on our way again for a very late lunch in Lemmer with its strange church bells. We continue further that day than expected, had dinner in a small wood, Matt got attacked by stinging nettles and we all enjoyed a pleasant evening cycle.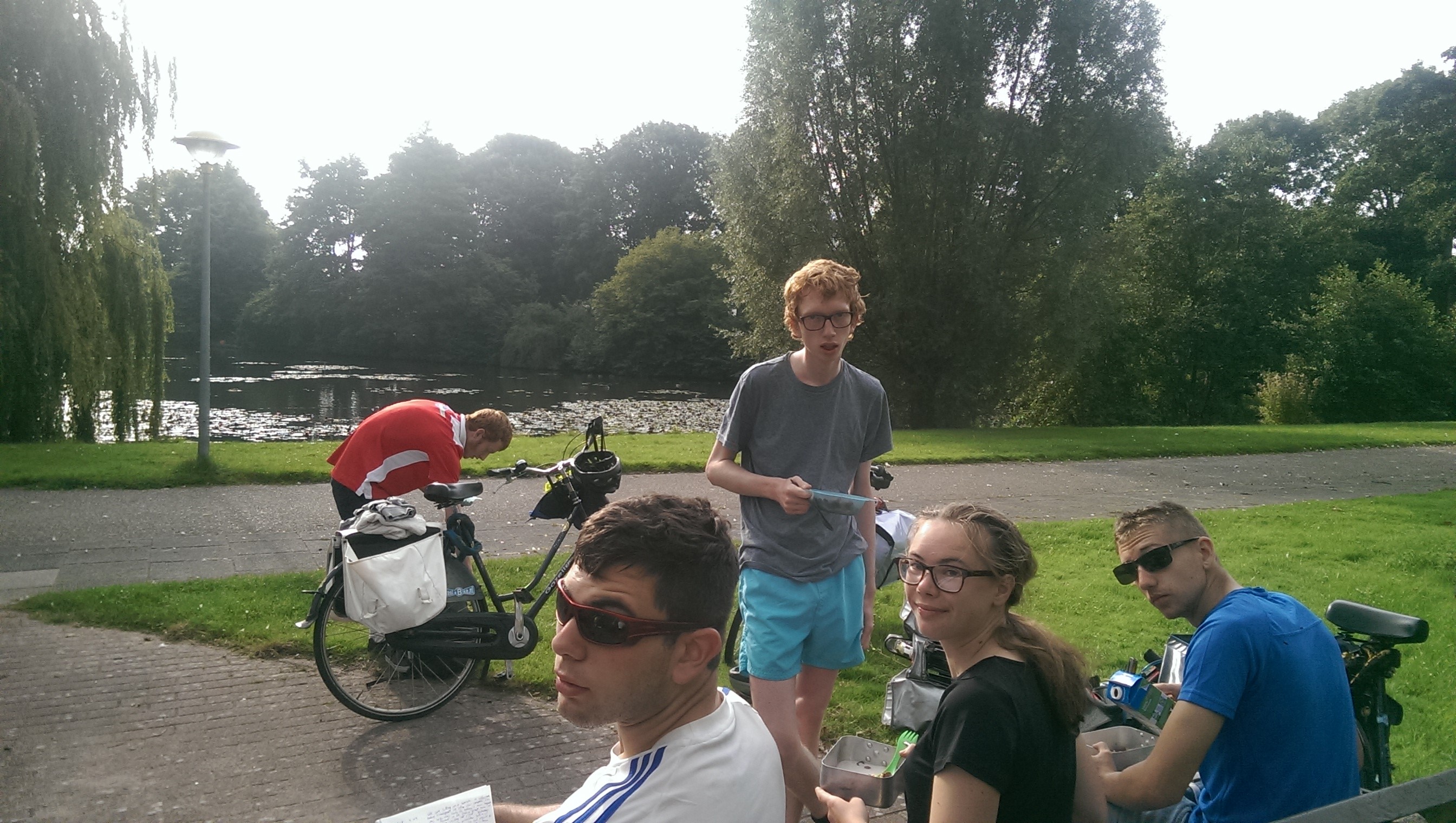 The next day we enjoyed our breakfast by a small lake in the glorious town of Lelystad – named after the engineer/architect that built the Afsluitdijk. We made our way to Utrecht and spent all day in the farmlands of Flevoland – a part of the Netherlands that was artificially reclaimed from the sea by use of canals and water control pioneered by Lely. Lunch was in Amere which had quite a different demographic to the other towns we passed. We learnt not the trust all the cycle route signs and finally arrived at Budget Camping Utrecht – the fanciest campsite so far. We all enjoyed our new favourite snack of Stroopwafel!
The following day we cycled all the way back towards Harlem and our first campsite. We passed strange lever bridges, road closures, a huge group of school cyclists, fields of flowers and (as everyday) countless canals. We arrived back to Naaldenveld and were again greeted by our Netherlands mother: Karin. We had different site this time and spent the evening playing volleyball and cooking the traditional Dutch meal of Stamppot which Karin recommended.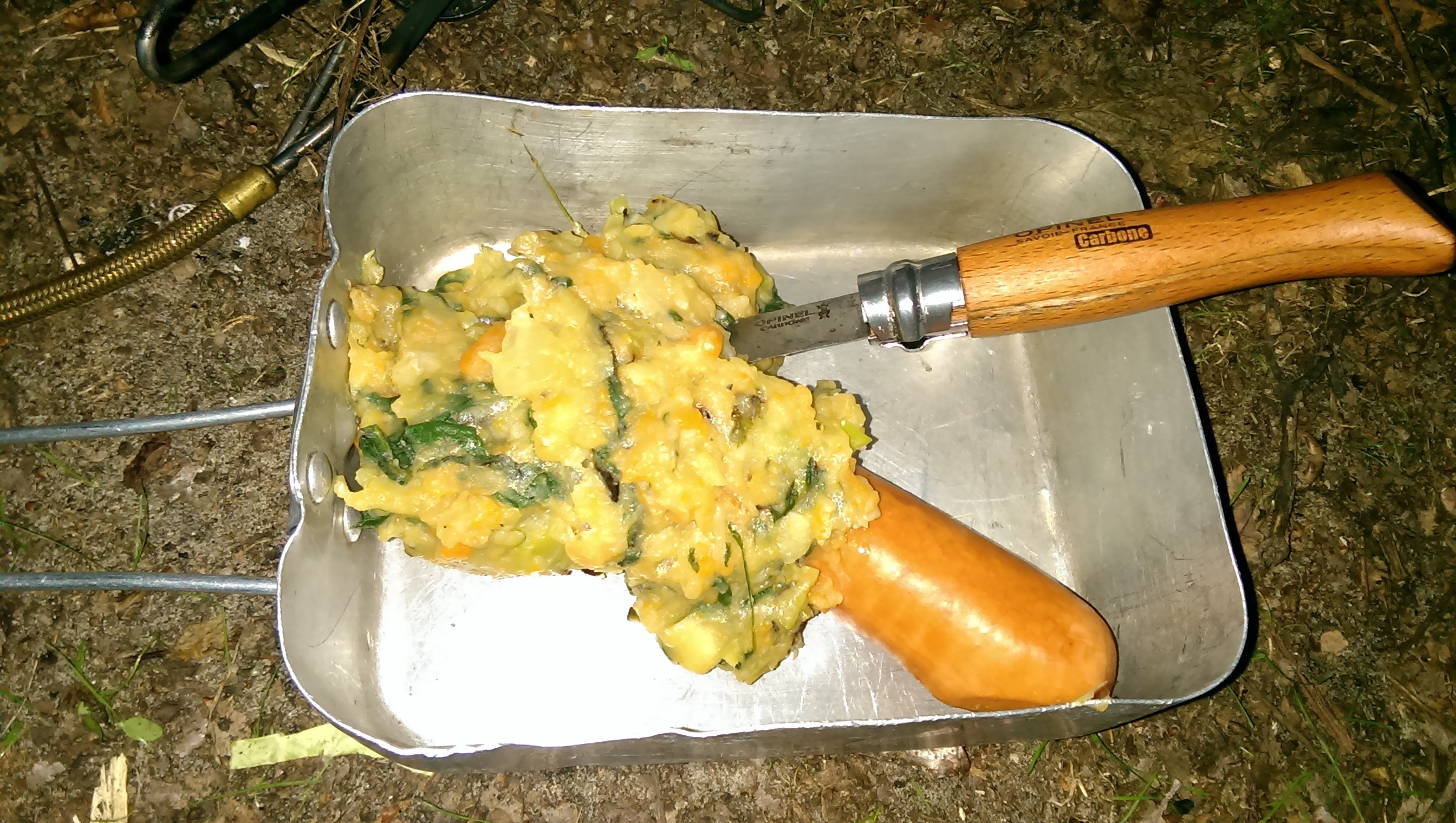 The following day we cycled to Zandvoort a local seaside town. We spent the morning at the beach, playing volleyball and swimming. There was a fish trader on the seafront and we all had the delight of trying raw herring with gherkin and onion. Some loved it but Sam wasn't too keen. We also managed to explore the local markets and after much searching we found a place that did liquorice ice cream which we all agreed was very tasty. We wanted to attempt the hat-trick but could not find Bitterballen in Zandvoort or later in Amsterdam. After that we headed to Amsterdam and stopped on route at the campsite to change a grab a snack.
After a week on the Dutch rental bikes we had grown to love (?!) their quirks and despite the sore bottoms from hard seats and near crashes from back pedal brakes we were sad to give them back. Of course we gave the busy cycle lanes of Amsterdam one last spin before we did: queuing in huge groups at the lights, racing scooters, ringing bells at stoned tourists and weaving through other cyclists. It certainly is exciting to cycle in the capital. After returning the bikes we explored a smaller and free church. We ate our assorted dinner from an Albert Heinz on the city streets, got bought everything for our canoe expedition and explored the night life.
The following day we packed up all of our kit ready for our canoe expedition and replaced panniers with dry bags. We bid a final farewell to Karin and the other camp staff and got the bus to Amsterdam and then on to Waterland. A couple of us were so busy chatting to some old ladies on the public transport about our adventures so far that we almost missed the stop. We got 3 shiny (and hot) aluminium canoes, packed our kit and equipment and got paddling. The journey began on small streams at the backs of people's gardens and eventually widened to commercial canals and small lakes. We passed many other boats (but no other canoes) and under many bridges, through locks and over portages till we eventually reached Edam. We carried on though to the Ijsselmeer which we had first encountered off the Afsluitdijk the week before. We followed the shoreline a short distance before arriving at our campsite – an A class establishment that Sam had found for us complete with free hot showers, a small shop, outhouse to play cards, sea-chickens on site and a guard pig! A fellow camper though we looked rather parched after our day canoeing and offered us a beer each.
The second paddling day we spent a few hours on the Ijsselmeer heading south. The weather was perfect and calm. We then followed more canals to the campsite. This time passing many more commercial trading vessels, a few power boats and lots of sailing boats but still no canoes or kayaks! Our arms needed a good stretch after the long day paddling and what better way than hauling our canoes a few hundred metres to get them off the water. This campsite was almost a fancy as the last but no animals. Joe and Tom got some obligatory photos in their Crawley Town football shirts for their dad back at home.
The next day was the last one of canoeing and we headed across yet more canals and along an international shipping lane to Amsterdam central. We had great fun surfing the waves of the bigger ships! We had lunch with a great view of the train station and the northern part of the city that many people don't get. Joe, Tom and Matt got off here and took the ferry across to the station with most of the heavy kit and went on to buy the last round of shopping, check in at the hostel, find somewhere for dinner and grab some showers. Meanwhile Adam, Ania and Sam took on the challenge of soloing back the last 10 km to the boat hire place, paddling along more of those… you've guessed it: canals! Finally we were all united at "Budget Hotel Trianon" in the southern part of the city. It was certainly budget but it was also a hotel. Although the beds were absolutely crammed in the rooms we had on suite bathrooms and the view from our top floor window was fantastic. You could see the opera house, the nearby park, the I Amsterdam sign and the Rijksmuseum behind it.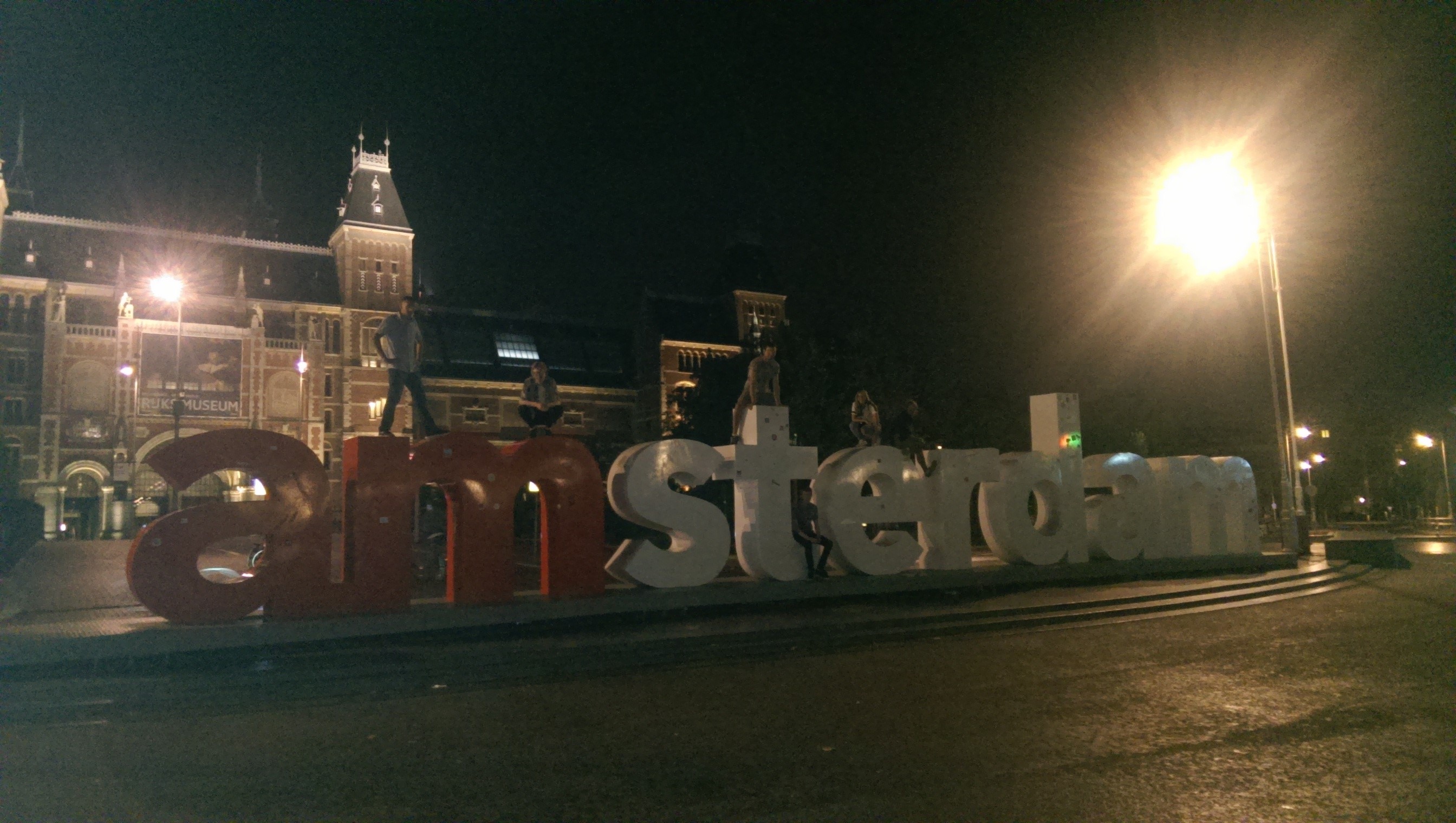 After we were all scrubbed up, smelling nice and dressed smart (ish) we headed out for our last supper and we managed to find that which had eluded us until this point – the Bitterballen. We had them served with mustard dip as a starter at the restaurant and those balls were definitely worth the wait. After dinner we walked around the city for a bit and the headed back to the hotel. On the way we stopped to climb the legendary sign by the Rijksmuseum and got a photo. Then Ania decided to up the drama of the evening by knocking Matt into the fountain behind, much to everyone's amusement. We finished the night with a game of cards but were all too tired to play much.
The following morning we packed our bags one final time and left then in the hotel baggage storage to get a few more hours worth of exploring the capital of the Netherlands. We had nothing but good weather on the trip thus far and it was a sign that our sunny explorer belt expedition was over when the heavens opened that morning.
We went into the Concertgebouw opera house for some inspiration for our final task – to learn a Dutch song. The actual hall was closed but the lobby was and café were quite pretty and as we sat there we decided to ask some ladies sitting next to us if they could help. At first they tried to teach us a song about Amsterdam but that was too complicated so eventually then settled on something a bit simpler and which all children of the Netherlands would know. After some vocal training, pronunciation tips and practise runs we all managed to sing together "Poesje mauw, kom er eens gauw Ik heb lekkere melk voor jou En voor mij rijstebrij Oh, wat heerlijk smullen wij" to the bemusement of other visitors.
After the tear jerking performance we split up to have a final look around Amsterdam. Between us we went to the local markets, a cheese museum, church, souvenir shops, famous sights and parks. We met up for lunch under the shelter of the Van Gogh museum's roof and then headed back to the hotel to pick up our stuff and go to the bus stop. We waited for a long time for the bus and were begging to get worries but eventually it arrived and we headed back to Schiphol Airport. We checked in our baggage and thought everything was sorted but then Matt's ticket wouldn't let him through the barrier. At first we thought it was a glitch but on closer inspection Matt realised he had made a booboo – he'd booked his flight for the day before! Whilst five of us flew to Gatwick, Matt had to make his way home via Southend-on-Sea…
Despite our numerous adventures and mishaps we all managed to make it home safe and well. We met up at the Acorn the following day to sort out scout equipment, exchange papers and sort out the final finances. We all had a great and enlightening trip and are looking forward to our group presentation in December. The explorer belt was a fantastic experience for the six of us. It gave us a chance to learn more about scouting, The Netherlands, our team and our selves. The planning and preparation has developed our skills and the expedition has made us more independent, co-operative and aware of the cultures that we encounter. It was also a really enjoyable time in each other's company and that of the people we met along the way. We will all have lasting memories and be able to look on our own and other cultures in a new light. We thoroughly recommend you take up the challenge too. Don't be afraid to ask us for help or advice.
This report was written as part of the assessment for the explorer belt. In addition the team kept a physical log book on their travels, a twitter feed and recorded the journey in "musical" form. They had a stall at the county AGM and did a presentation including their edited video in December 2017.