Campsite Map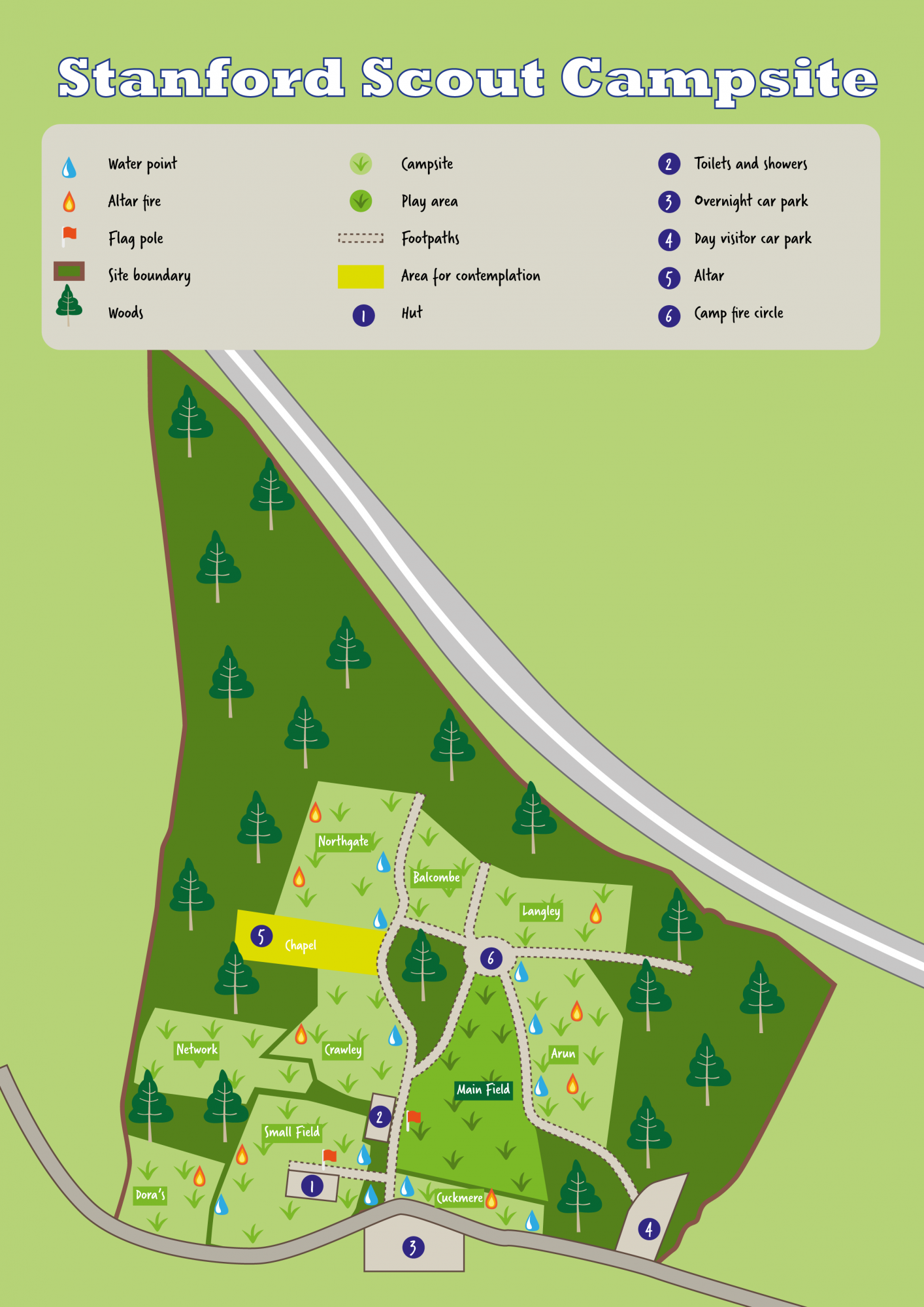 Training Centre
The training centre has Catering facilities as well as a Main hall and Meeting room. Tables and Chairs are available. Sleeping in the centre is allowed however this is provisioned on the floor. A disabled toilet is available. The centre can be hired for occasional use. Further details are available from the booking secretary.
Washing Facilities
The toilet and shower block is open to all campers. We ask that you respect these facilities and leave them as you would expect to find them. The site does not have a maintenance team and we would ask for co-operation between groups camping on the site to ensure that they are left in a clean and tidy manner. The ladies shower block has a disabled toilet.
Electricity
Electricity for the hut is provided by two coin meters. One for the Hall and Kitchen and one for the meeting rooms. These require £1 coins to operate them.
Water
Water is metered on the site and we ask that where possible you conserve water. All the sites have recently had new Standpipes fitted to them.
Fires
There is a main Camp fire circle for all to use. All other fires must be kept off the ground either by using the available altar fires or through other built up means. Due to the make up of the site wood should not be an issue. Any material burnt on site must be in line with the Regulatory position statement from the Environment Agency
Contemplation
Within the site is an fenced area known as the Chapel. we would ask all groups to respect persons using this area for contemplation.
Refuse
All rubbish must be removed from site. There is no facility on site for the disposal of rubbish and it must be taken with you on your departure. Please do not litter the site and keep the site clear of rubbish.
Trees and Woodland
A large portion of the site is still woodland. Shelter building and coppicing is allowed however please discuss with the booking secretary areas that can be worked. Please protect sound, living trees.
Pioneering
There is a supply of poles on site however please provide you own rope and equipment to use them.
Camping
Camp sites are set up for your use, however the more adventurous scouts are welcome to camp in the woods or where they see fit, giving consideration to other using the sites. We ask that persons do not camp on the 'Main Field' as this is for all to share and use for activities. We would like you to consider the 'Chapel' out of bounds except for those using the area for contemplation. Camping is prohibited in this area. 'Dora's' is specifically for use by those of Explorer Age and the 'Network' area likewise. Please note that you will often not be the only group on site, so please respect other using the facilities.