What happens when you let a Cub loose at the controls of a £50m aircraft? They gain their Air Activities Badge, and have the experience of a lifetime.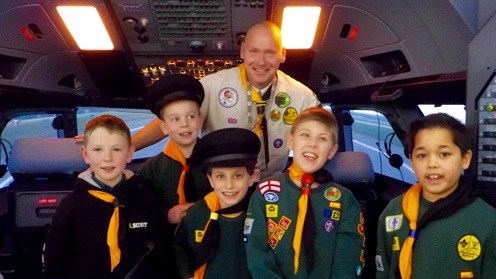 The plane taxis down the runway, gathering speed, and the nose lifts gently from the rushing tarmac. The pilot – a Cub in a badge-studded jumper – pulls back as hard as she can on the stick, laughing, while the co-pilot – Akala – presses the rudder pedals that the pilot's legs are too short to reach. The view from the cockpit is all sky as they attempt to loop-the-loop in an Airbus A320. The screen goes black, and then the wraparound visuals restart on the runway as the next Cub takes up the controls.
'It feels like you're flying,' says eight-year-old Mia. 'It was really cool!' She was controlling one of the worlds most advanced flight simulators, designed and built onsite by L-3 Link Simulation and Training, a stone's throw from Gatwick Airport. They are usually flown only by qualified and trainee pilots. The Cubs had the chance to try them for a day, as part of earning their Air Activities Badges: stages 1 and 2.
'Having the Scouts in was great fun, a total departure from the usual day-to-day,' says operations director, Nick Bendall. Together with a member of his team, Abi Newton, who is also a Beaver leader, they arranged 1st Northgate Cubs' visit.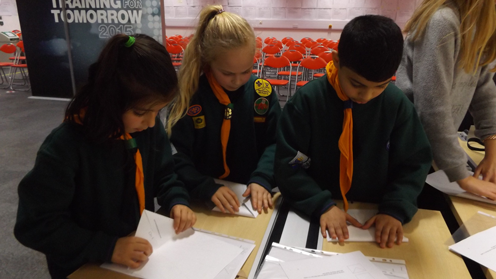 'We made paper aeroplanes and we tested them,' says Ollie, aged 8. 'Mine went about seven metres!' says his friend Lewis, also 8. 'There was also a memory game with plane tails,' continues Lewis. 'And we learned about the parts of the plane,' says Mia. 'Everyone loved it,' agrees James, aged 10.
'It was really good fun,' Abi reflects. 'It was a lot of organising, but well worth it.' She put the programme together to ensure the Cubs could gain their badges, and arranged for them to try the simulator as a special treat.
The Cubs all agree this was the best part of the day. The simulators are housed in an enormous hanger. They are rounded pods on spindly hydraulic legs, which dip and roll nauseatingly as buttons are pushed in the cockpit – a perfect re-creation of a real commercial aircraft.
'I flew to the Isle of Wight,' Ollie says casually, as if he does it all the time. 'When you turned, the map turned exactly the same, so it felt like you were flying the plane.'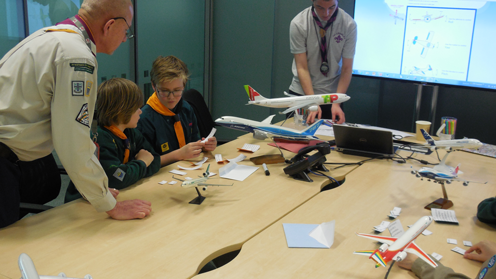 For Abi, educating young people about engineering was at the heart of the day. 'I've got a degree in engineering, but I've always been a bit of a minority,' she says of this male-dominated world. 'So many [Cubs] came out saying "I want to be a pilot when I grow up". But we explained that it's not just pilots who fly the simulators – so do the engineers who look after them.'
Nick reiterates the importance of showing young people the opportunities that are out there. 'Engineering as a skill is often not foremost in young peoples' minds,' he says of this declining UK industry. 'It's nice to think that this might spark an interest for a Cub.'
'Children don't realise there are all these jobs out there in the world,' Abi says of roles like her own – a buyer of simulator parts. 'Hopefully we'll be able to inspire some young minds [and show them] it's not just about the obvious jobs. It gives them a reason to work at school, because these jobs are out there. It's something to aspire to.'