Andy Hibberd is the Scout Leader at 1st Crawley and below is his account of this exciting expedition at the end of last year. His impressive month-long trek through Nepal took him over a variety of mountainous terrain, across several passes and to Everest Base Camp. Recently he made presentations to the Beaver, Cub and Scout sections at 1st Crawley, inspiring them to take on their own challenges.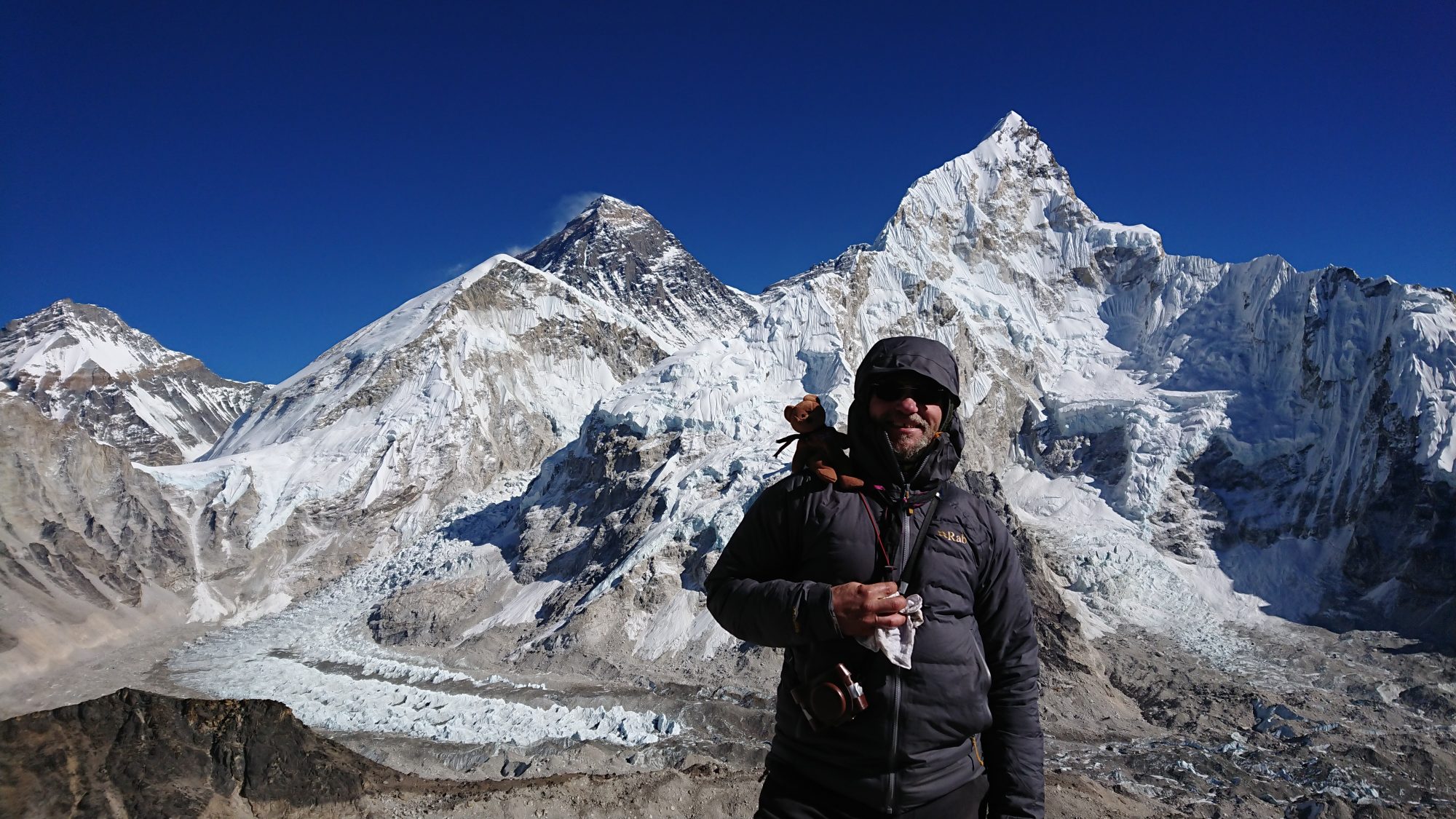 40 Days in Nepal
After a lifetime of wanting to go to Nepal and see Everest for myself I finally took the plunge and bought a plane ticket. That simple act lead to 9 months of preparation and training and on November 26th 2018 myself, Shackleton (our 1st Crawley mascot) and our 8kg of equipment finally took off from Heathrow.

The plan was quite simple – fly to Kathmandu (the scariest bit as far as I'm concerned) take a 12 hour uncomfortable bus journey east to a little place called Shivalaya and then walk the same route that Hillary and Tenzing did for 8 days to the unofficial capital of the Khumbu area, Namche Bazaar (you can fly into the area but the 'airport' at Lukla is terrifying and I don't like flying). From there a month-long circular route would take us through the Everest region and over three high passes through the mountains reaching altitudes of over 5550m. On the way we would cross glaciers, see Everest, visit Base Camp, climb Kalla Pathar and several other hills for spectacular views. The total mileage would be just over 200 miles.
I had decided to trek alone during the winter so that it would be very quiet and I could walk every day by myself. However, being in the Khumbu region in winter means coping with arctic conditions with the night time temps at around -25C, so a lot of my preparation concerned keeping warm.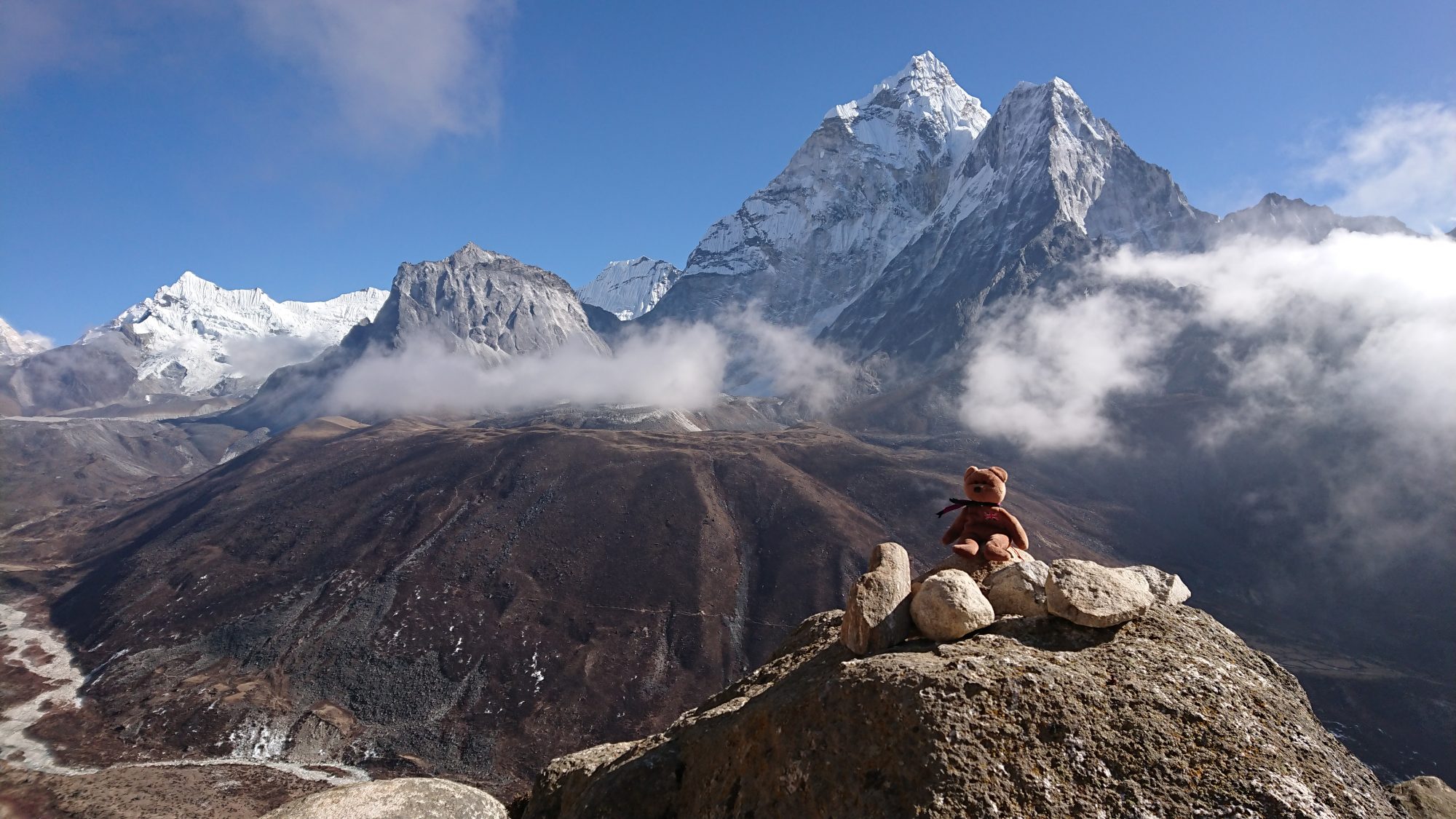 The whole trek went extremely well and the entire country is unbelievably beautiful and the mountains are incredible – so huge, awe-inspiring, wild and magnificent. There is tame wildlife everywhere (there has never been any hunting in the Khumbu) and the people are remarkable, generous and kind. The only change to my plan was caused by snowfall just before I planned to tackle the second, and most dangerous pass. As new snow covers over the treacherous crevasses on the glacier there, I decided it was far too perilous to attempt the pass so I had to make a 4 day detour instead. As disappointed as I was about missing out the Chola Pass the alternative route up the Gokyo valley was incredibly beautiful, especially with a good covering of the white stuff.
Finally I got back to Kathmandu where I was greeted by a Nepali friend I had made during the trek (he was doing a shorter hike up to Everest and back). I stayed in his house for 4 days and he and his friends made a mission of showing me all of the wonderful sites of their polluted, crowded, exotic and fantastic city.
If you decide to do this walk, known as the Three Passes Trek, then you will need to be pretty fit and you should aim to carry as little as possible. The lodges you will stay in every night look after you well and can supply all the things you need. The weather in winter is clear and sunny most of the time and is perfect for walking but the nights are brutally cold so you need a very good quality sleeping bag. You will also need a reliable way of purifying your water if you want to remain healthy. There is no need to walk alone, you can hire a guide and even have a porter to carry your equipment but navigation is quite easy and GPS works everywhere, so as long as you are experienced and happy in the mountains you can easily cope by yourself. 2020 is being touted as 'The year for tourism' in Nepal as the country will hopefully be healed after the devastating earthquake of 2015 by then. Why not start saving up?
If anyone would like any more advice about doing this trek for themselves then please feel free to get in touch.

Dr Andy Hibberd
SL 1st Crawley