On Sunday 7th September 2014, 4 members of Crawley District entered "Scoutshoot" an annual event organised by Surrey County Scout Rifle Club at the National Shooting Centre, Bisley. The competition is for all members of the Scout movement over 14 and involves 5 different shooting events.
300m Full Bore
25m Small Bore  (Rimfire)
.177 Air Pistol
.385 Repeating Rifles (Gallery Competition)
.22 small bore chalks
The weather was kind and the day long with everyone improving their skills and trying different shooting events. The results for Crawley District were excellent, with three members winning awards.
Harley Raine (4th Worth) – Jack Day Memorial Trophy (Highest Rimfire Rifle Score with 199/200)
Paul Carruthers (4th Worth) – Greybeards Cup (1st with the best aggregate score over 25's), 1st for Gamblers chalks with 95/100 and 2nd for top aggregate score over all ages
Connagh Launchbury (2nd Ifield/Drake ESU) – The Pistol Trophy (Highest pistol score with 81/100) and 2nd in Jack Day Memorial Trophy with 198/200. Connagh has also been selected to attend the turnouts for the Scout GB Pistol Squad.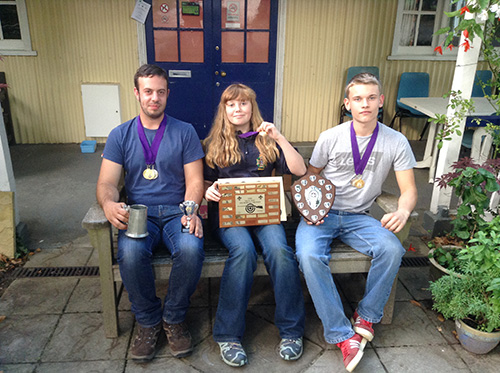 Next month will see Crawley District take 25 members to the National Scout Shooting Championships where members will experience shooting in a formal event, some for their first time.
We wish them all good luck and hope they return with some more trophies and medals.